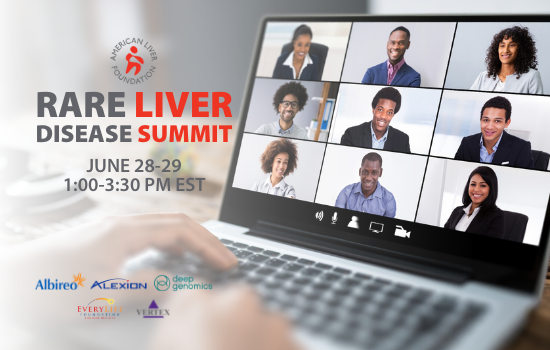 ALF will bring together rare liver disease stakeholders – patients, caregivers, hepatologists, primary care providers, patient advocacy organization personnel, and industry representatives – for a four-hour virtual Summit to identify solutions for improving the health outcomes of individuals with rare liver diseases. This meeting will focus on answering the following questions:
How can people avoid misdiagnosis/achieve earlier diagnosis?
How can we educate more people about genetic testing and best address concerns about stigmatization?
How can we reduce the patient burden and improve the overall patient experience?
Can telemedicine play a role?
We will also explore patients' and caregivers' views on currently available treatment options, daily functioning/quality of life issues, telemedicine, care coordination, and the liver transplantation process. To facilitate the discussion, we will engage a communications consultant with a high level of knowledge of rare liver diseases as well as experience moderating thought leader meetings and providing qualitative analysis.
EVENT DATES: Tuesday, June 28th and Wednesday, June 29th
TIME: 1pm-3:30pm EST