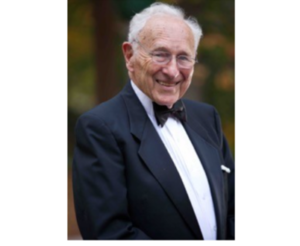 Join us in honoring Dr. Irwin M. Arias
Sr. Scientist, Emeritus, NICHD,
National Institute of Health, Baltimore, MD
Professor Emeritus, Dept. of Medicine, Gastroenterology & Liver Diseases,
Albert Einstein College of Medicine, New York, NY
Professor Emeritus, Physiology and of Medicine, Tufts University School of Medicine, Boston, MA
A founder of the American Liver Foundation (ALF) and long-term member of both the former New England Division and National Board of Directors, Dr. Arias has contributed substantially to the mission of ALF, particularly with regard to supporting young PhD and physician scientists interested in the pursuit of liver disease.
Dr. Arias has dedicated his career to bridging the gap between scientists in the lab and medical doctors in the clinic, continually building bridges to link basic biology to human disease. In his long and continuing career in liver-related science, medicine, and education, Dr. Arias has been the recipient of many national and international honors and his course, "Demystifying Medicine", which he established at the National Institutes of Health (NIH), has gained national and global attention.
In recognition of his spirit in advancing medicine for liver patients and highlighting the power of basic science, ALF launched the annual Irwin M. Arias Symposium. Now in its 31st year, the symposium is designed to bridge the remarkable advances in basic biology and engineering with the understanding of liver diseases and their treatment. ALF also established the Irwin M. Arias, MD Postdoctoral Research Fellowship Award in the early 1990's.
This donation will credit the event as a whole.